Regular price
Sale price
$15.00
Unit price
per
Sale
Sold out
Chi-Chee, inspired by the incredible flavors of kimchi, brings zippy acetic and lactic acidity to the table coupled with zesty garlic and a gentle balancing sweetness. Fruity and subtly smoky Korean chili flakes (Gochugaru), alongside fresh Fresno and Habanero peppers, combine with pleasantly tangy fermented vegetables and miso for a unique and complex flavor. Use this vibrant sauce to elevate rice, noodles, sushi, stir-frys, fried and scrambled eggs, or your favorite sandwich. 3.5/10 heat.
"I love fermented sauces and this has that same funky, sweet, spicy and salty umami bomb we all know and love." - Check out the full review from @PrimalPeppers for 'Chi-Chee'!
Refrigerate after opening.
For wholesale inquiries, reach out to homero@harmacyhotsauce.com
Ingredients

Kimchi (Cabbage, Radish, Carrot, Scallion, Shallot, Onion, Garlic, Apple, Ginger, Dried Chili, Tamari, Salt, Sugar, Shiitake Mushroom, Kombu, Rice Flour), Chili Peppers (Fresno, Habanero), Onion, White Vinegar, Rice Vinegar, Garlic, Brown Sugar, Miso, Dried Chili, Monosodium Glutamate, White Pepper.

Contains: Soy
Nutritional info

about 26 servings per container
Serving size: 2 tsp (10g)

Per serving:
- Calories: 5
- Total Fat: 0g (0% DV)
- Saturated Fat: 0g (0% DV)
- Trans Fat: 0g
- Cholesterol: 0mg (0% DV)
- Sodium: 80mg (3% DV)
- Total Carbs: 2g (1% DV)
- Dietary Fiber: < 1g (2% DV)
- Total Sugars: 1g
- Incl. Added Sugars: < 1g (1% DV)
- Protein: < 1g (1% DV)

Per container:
- Calories: 130
- Total Fat: 5g (0% DV)
- Saturated Fat: 0g (0% DV)
- Trans Fat: 0g
- Cholesterol: 0mg (0% DV)
- Sodium: 2080mg (90% DV)
- Total Carbs: 52g (19% DV)
- Dietary Fiber: 16g (56% DV)
- Total Sugars: 26g
- Incl. Added Sugars: 13g (26% DV)
- Protein: 13g (26% DV)

The % Daily Value (DV) tells you how much a nutrient in a serving of food contributes to a daily diet. 2,000 calories a day is used for general nutrition advice.

Shipping

Free Shipping on all orders $50+ and only $6.99 shipping on all other orders.
Share
View full details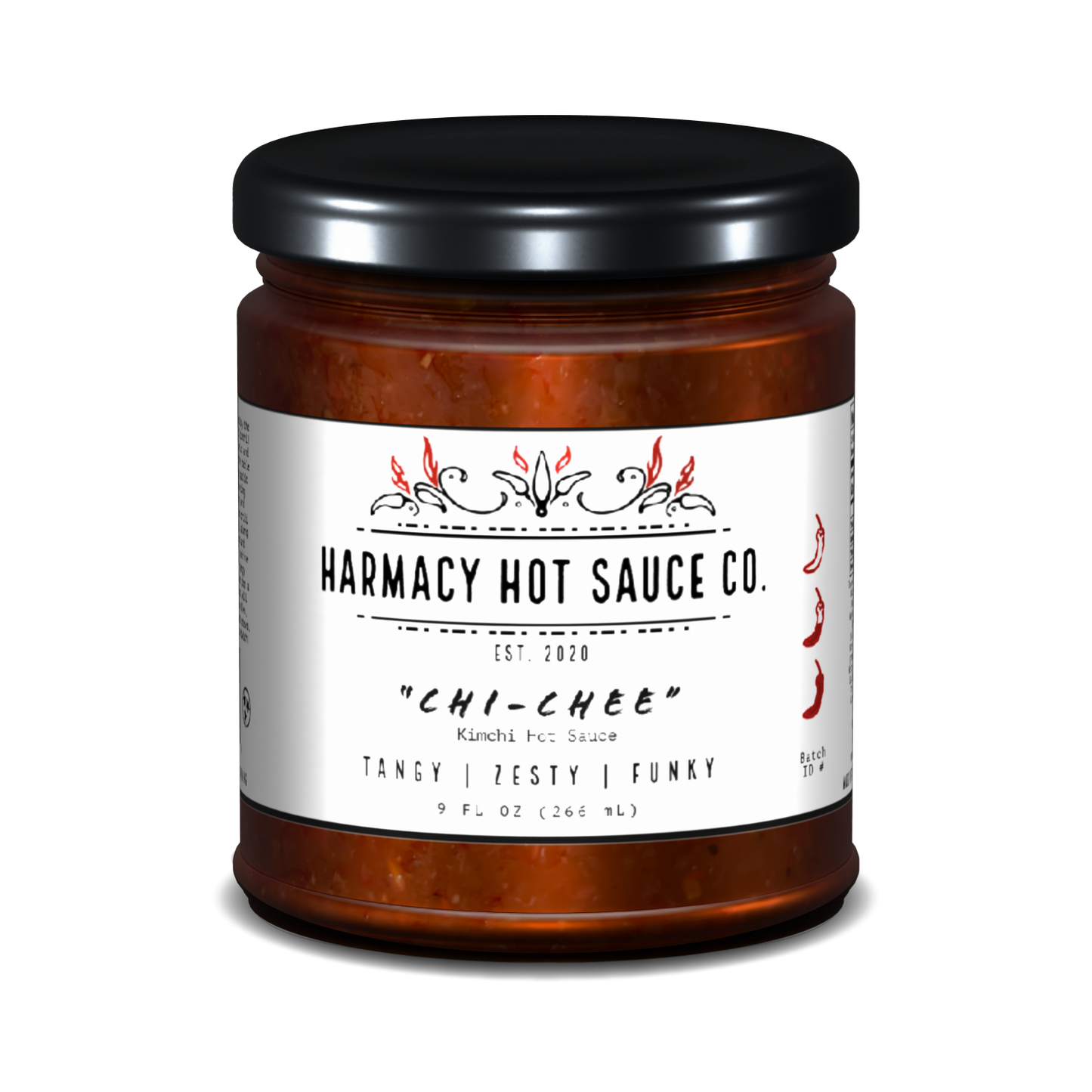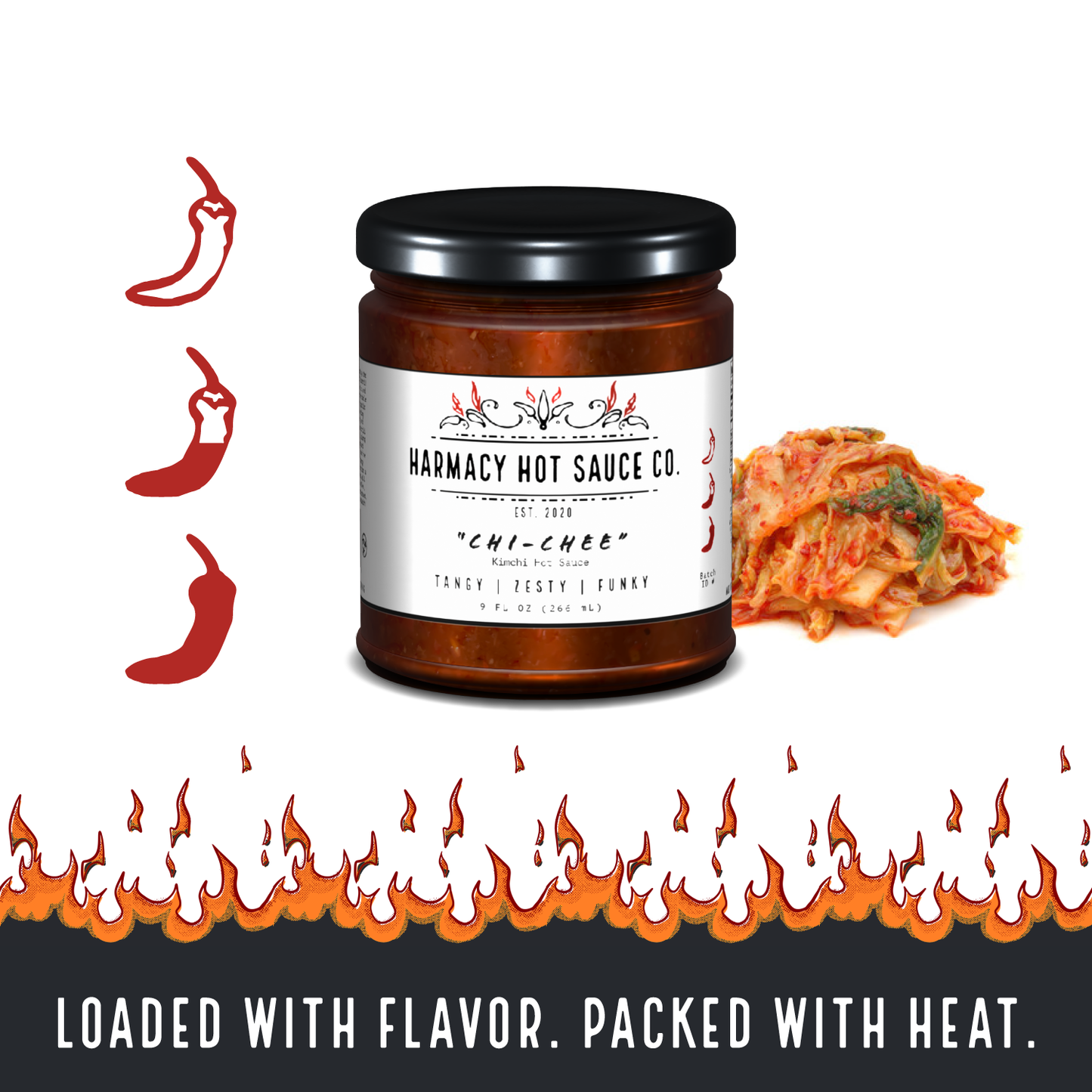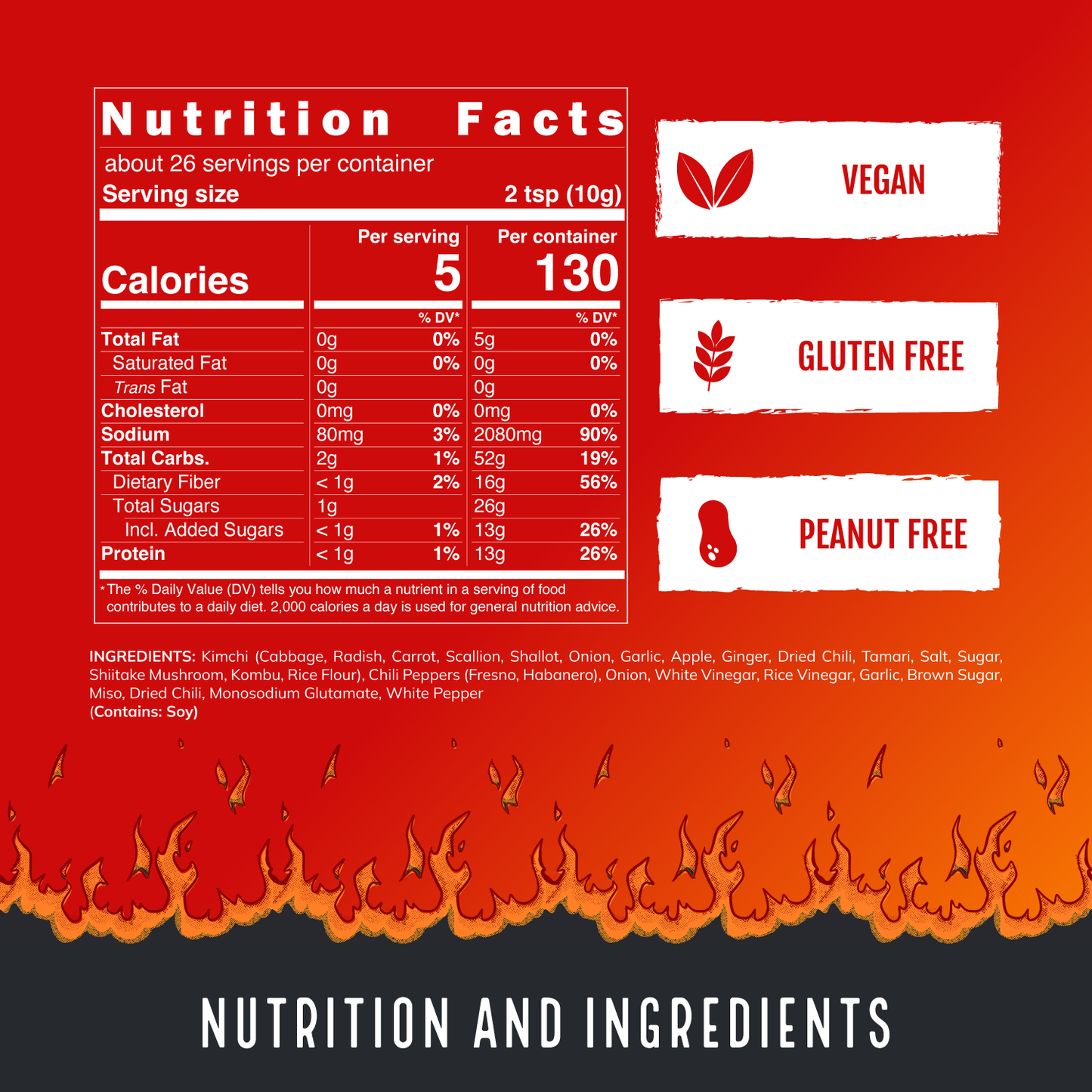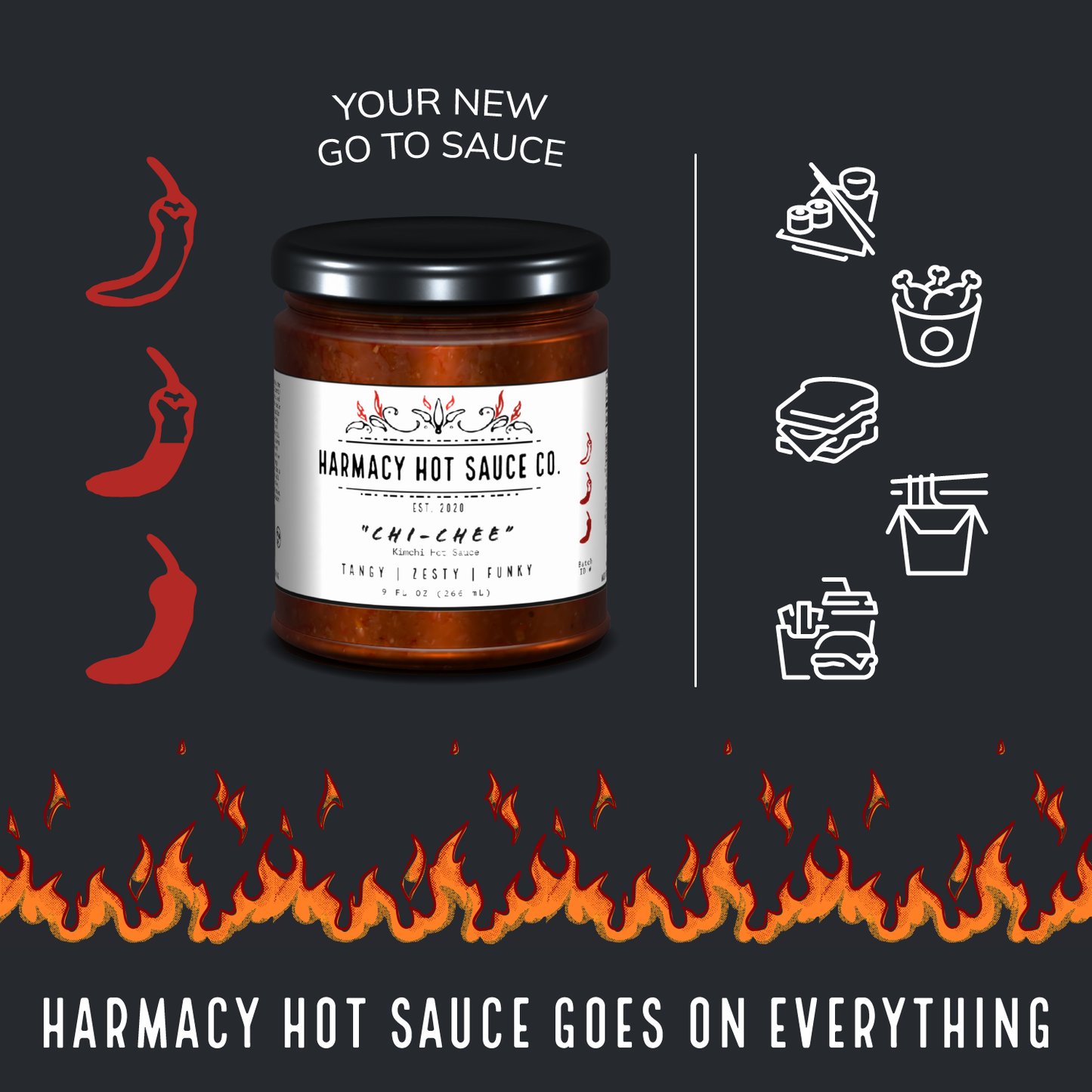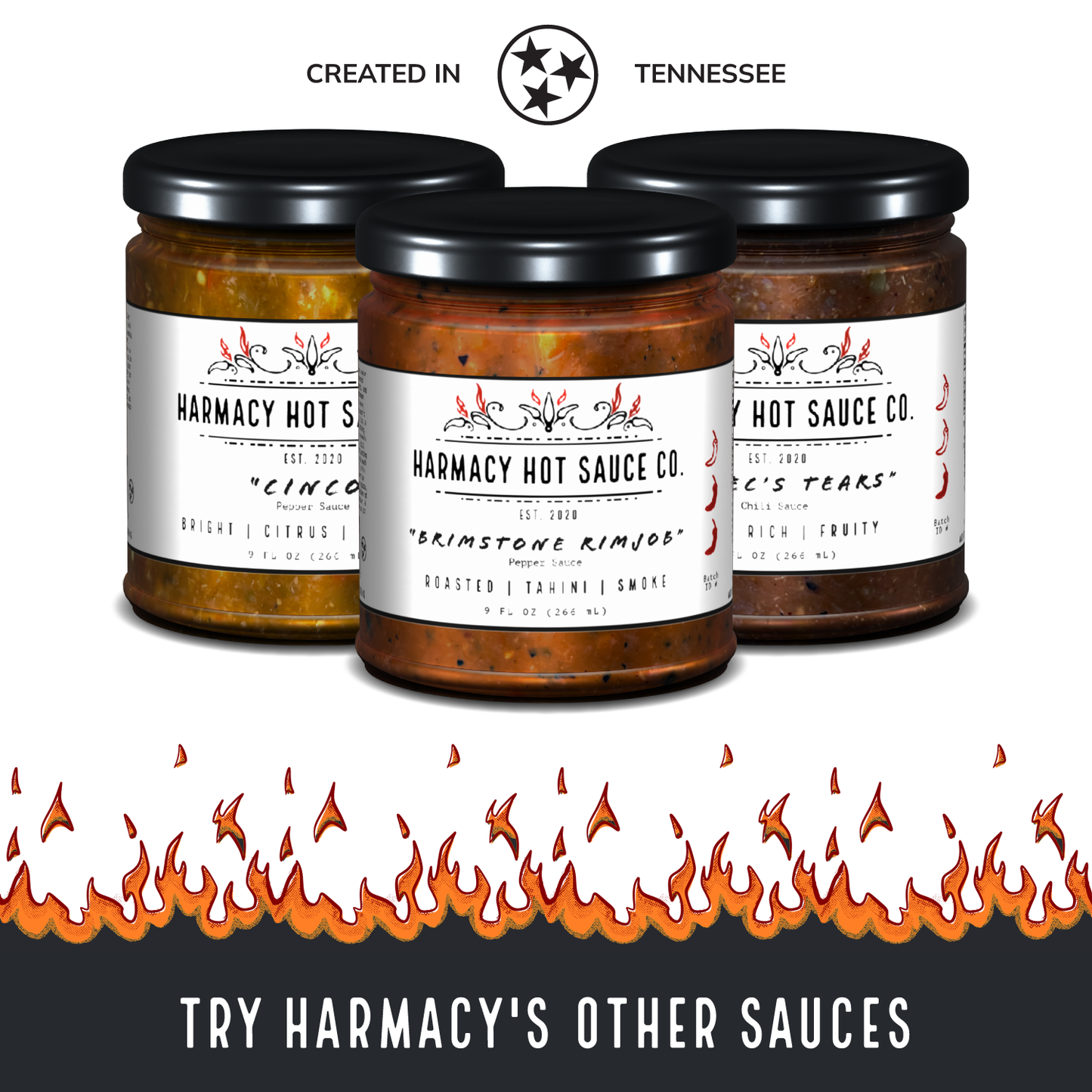 This stuff is GOOD!
I bought four jars after hearing you on Good Morning, Cookeville yesterday. They arrived this afternoon (very quick!), and I just completed a taste test with a couple of co-workers.
I loved the Buffalo Solider. The heat snuck up on me, but lasted a while without being overbearing. It was delicious!
My co-workers liked the Totec's Tears. They liked the sweet taste.
The other two were Brimstone Rimjob and Chi-Chee. Both were great and I was thrilled to have a hot sauce that tasted like kimchi! We'll be cooking with these for a while!
My new favorite!
Really flavorful with a nice slow burn. So far we've tried it on scrambled eggs (wholeheartedly recommend!) and as a flavorful addition to pasta sauce. I bought an extra jar to send my out of town parents, which is the ultimate culinary compliment from my house!
A Fermented Delight
Chi-Chee captures the essence of kimchi in a bottle. Zesty garlic notes and the subtle sweetness balance the tangy fermented flavors. A bit zippy, but a great addition to any spicy food lover's collection!
Kimchi Sauce Obsession!
This hot sauce is amazing! It's got that kimchi taste I love, and it's just the right amount of spicy. I've been putting it on pretty much everything, and it's so good. If you're a fan of kimchi, you've gotta try this sauce. It's a game-changer!