Regular price
Sale price
$15.00
Unit price
per
Sale
Sold out
Brimstone Rimjob is a rich red pepper sauce that forwards deep roasted flavors, earthy tahini, and fragrant Mediterranean spices. This sauce's slow burn hides its bite like a wolf in sheep's clothing. Seconds later its true nature is revealed, a full flavored experience with a complex, lasting heat that mounts with each bite. Enjoy this versatile condiment on pizza, in marinades for chicken and pork, brushed on vegetables for roasting and grilling, mixed with mayonnaise for an instant burger sauce, or start your day right with a fiery fried egg. This is a *perfect* wing sauce as is. 6/10 heat.
For the super hot version, check out Brimstone Rimshot!
"Brimstone Rimjob pepper sauce! It. Is. Fire!" - Check out the full review from @PrimalPeppers for 'Brimstone Rimjob'!
Grand Champion Sauce King NYC Winner! (2022)
First place International Flavor Awards Winner! (2022)
Refrigerate after opening.
For wholesale inquiries, reach out to homero@harmacyhotsauce.com
Artwork by Sinjin Lewis (@sinjeezus)
Ingredients

Chili Peppers (Fresno, Jalapeño, Serrano, Habanero), Roasted Red Peppers, Apple Cider Vinegar, Tomato, Onion, Tahini, Apricot, Garlic, Salt, Monosodium Glutamate, Coriander, Cumin, Garlic Powder, Liquid Smoke, White Pepper.

Contains: Sesame
Nutritional info

about 26 servings per container
Serving size: 2 tsp (10g)

Per serving:
- Calories: 5
- Total Fat: 0g (0% DV)
- Saturated Fat: 0g (0% DV)
- Trans Fat: 0g
- Cholesterol: 0mg (0% DV)
- Sodium: 60mg (3% DV)
- Total Carbs: 1g (0% DV)
- Dietary Fiber: 0g (0% DV)
- Total Sugars: < 1g
- Incl. Added Sugars: 0g (0% DV)
- Protein: 0g (0% DV)

Per container:
- Calories: 130
- Total Fat: 10g (0% DV)
- Saturated Fat: 0g (0% DV)
- Trans Fat: 0g
- Cholesterol: 0mg (0% DV)
- Sodium: 1560mg (68% DV)
- Total Carbs: 26g (9% DV)
- Dietary Fiber: 10g (0% DV)
- Total Sugars: 23g
- Incl. Added Sugars: 5g (0% DV)
- Protein: 8g (0% DV)

The % Daily Value (DV) tells you how much a nutrient in a serving of food contributes to a daily diet. 2,000 calories a day is used for general nutrition advice.
Shipping

Free Shipping on all orders $50+ and only $6.99 shipping on all other orders.
Share
View full details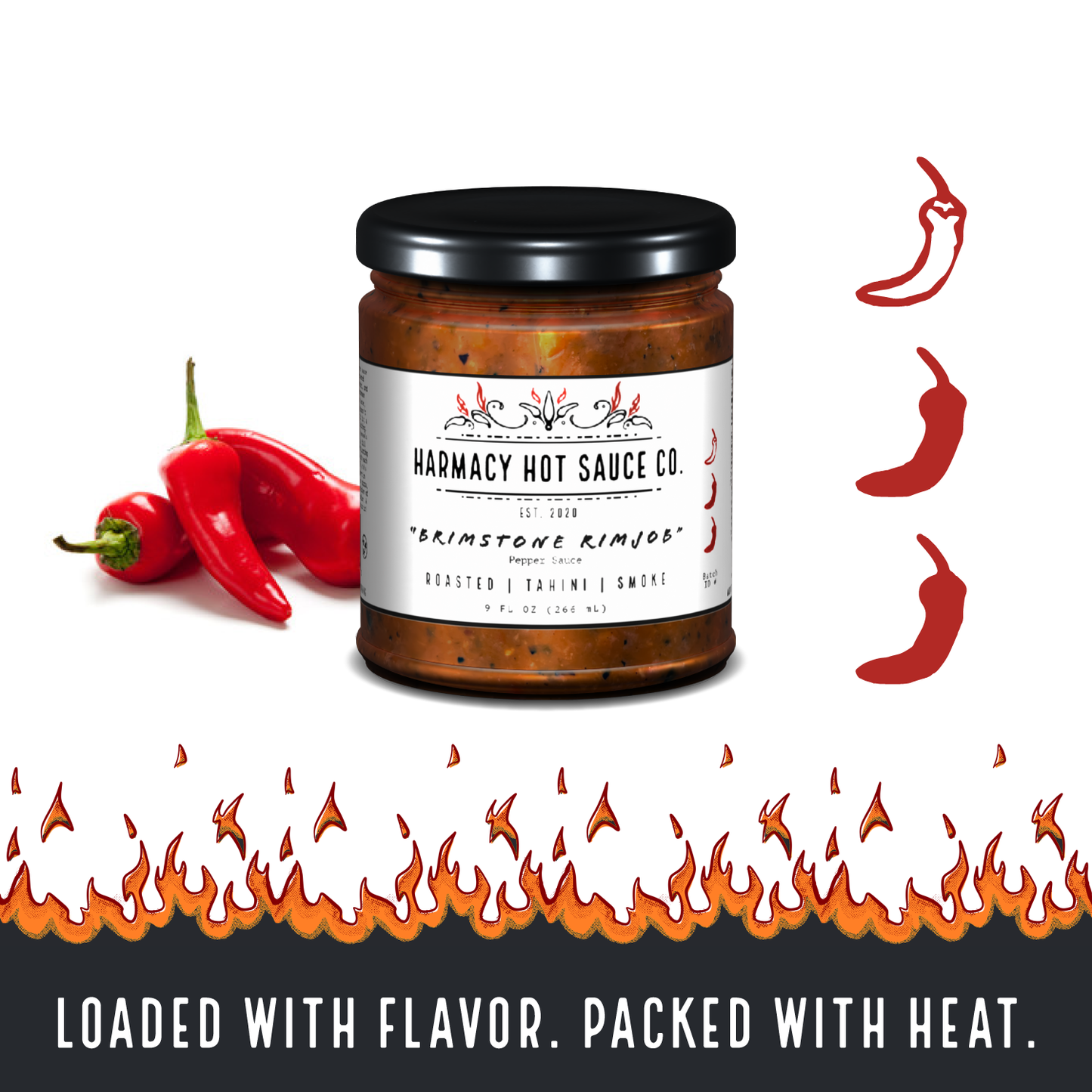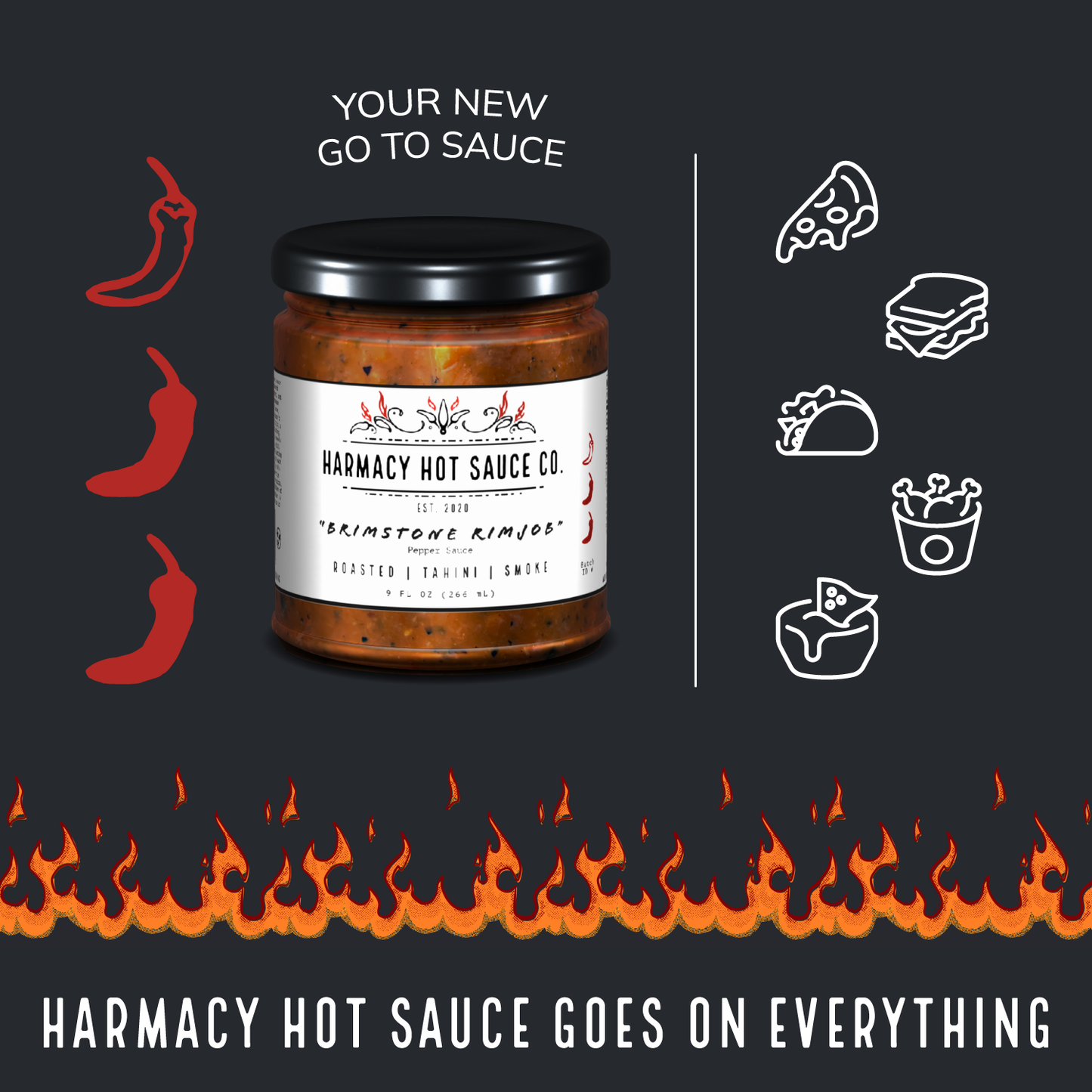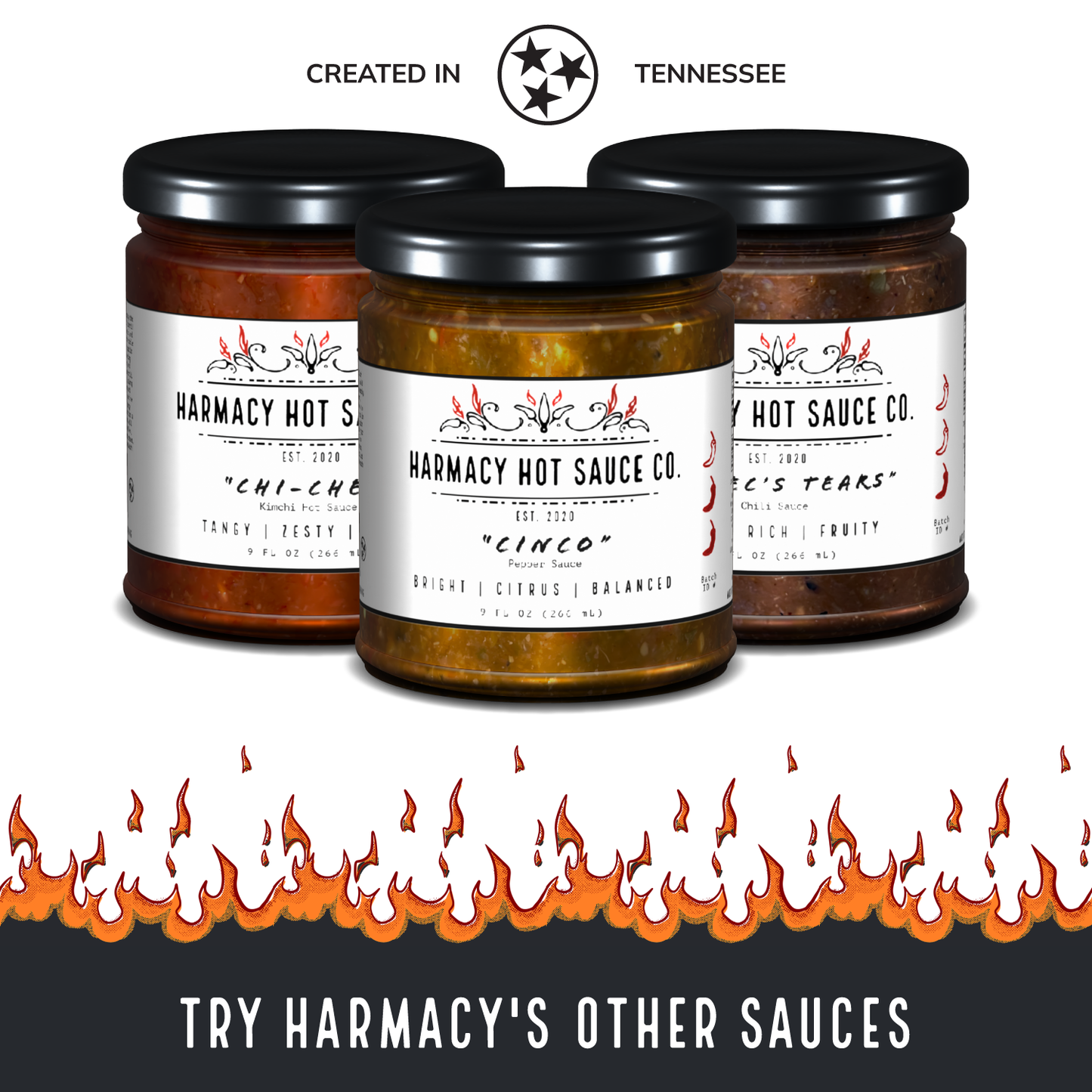 Brimstone Rimjob 👍🔥✨❤️👍
Harmacy hot sauces are top notch. Don't even hesitate to try one. You can skip it but you would be making a mistake and will surely be judged harshly by your ancestors!
Father's Day family hit!
Opened the Harmacy Hot Sauce Brimstone Rimjob for simple chips and salsa. Delicious! And gone in minutes! The group was quite eclectic. All were outspoken about how good the sauce was.
A perfect sauce
The title says it all - an absolutely perfect sauce. The heat is right at that point of flirting to be too much without actually stepping over the threshold and the flavor profile is incredible. The claim of this being "the perfect wing sauce" in the product description is right on the money and it's why I keep coming back to Harmacy. I'd give it a 10/5 if I could.
A Symphony of Spice and Smokiness
Brimstone Rimjob is a true masterpiece in the world of hot sauces. The smoky undertones from liquid smoke meld perfectly with the heat of chili peppers, and the subtle hint of apricot adds a delightful twist. It's my go-to sauce for BBQs and more!
My Dream Sauce
Brimstone Rimjob is the hot sauce of my dreams! The blend of Fresno, Jalapeño, Serrano, and Habanero peppers delivers a fiery punch, while apricot and roasted red peppers add a touch of sweetness. But it's the Tahini that is the star of the show, it's a must try an a must-have for every hot sauce enthusiast!